Termite Inspection
Many people are surprised to find that a regular termite inspection is a normal part of the maintenance of a home. Even new homes are susceptible to termite attack and are arguably more susceptible than older homes. Pestgo technicians are experienced and qualified to carry out termite inspections, book here.
Termite inspections often uncover a range of what are called conducive conditions (conditions which make termite attack easier or make the home more attractive) when conducive conditions are pointed out around a home it is often simple for the homeowner to rectify same.
Conducive conditions will often be from one of three groups, excess moisture, high soil levels or other bridging conditions or food sources (timber or other items containing cellulose) stored next to or existing next to the home.
I will mention quite a few of these conducive conditions here but the list is by no means exhaustive. Each home is individual and construction types, landscaping and topography all also play a part. For more information visit The Definitive Guide to Termite Detection, Treatment and Prevention in Australia 2022
Lets tackle the excess moisture problem first. Why is it a problem?
Termites need a permanent moisture source so if you provide one from one of the following list you may be inviting them to dinner.
Termites ability to detect timbers is enhanced when they are wet
Termites ability to create their underground tunnels is easier when the soil is wet/damp.
Most chemical and occasionally physical barriers are broken down more quickly by moisture being present.
What types of conditions are we talking about?
Dripping taps
Broken pipes
Downpipes and gutters that leak
Hot water systems that continuously lose water via the overflow valve
air conditioning units draining next to the house
Irrigation set up too close to the house
Blocked drains
Sub floor areas not drained or ventilated correctly
Leaks from shower trays
pipes with small leaks in the walls of the house
High soil levels or bridging, why is this a problem?
When a home is built it usually has protection of some sort, high soil/mulch levels can rend it useless.
High soil/mulch levels can provide easy cover for the trails that might normally be easily seen as they gain access.
Bridging a physical or chemical barrier/treated zone can rend these treatments useless.
How does this occur?
When some type of plumbing or drainage work is carried out on the home that disturbed soil
During landscaping works
Gardens being mulched or naturally building up mulch over time
Items such as bricks or house tiles being stored against the home
Firewood being stored against the home
Fence posts and pergola posts being installed into the ground and against the house
Food sources stored or existing next to the home
Often home owners innocently store items out of the way and out of the weather by placing them next to the house.  These stored items may include items stored on timber pallets which themselves are great termite food, they also might store firewood, waste timber or building materials that are susceptable.
It is pretty much self explanatory as to why this might be a poor choice of place to store things, as when you store termite food on the ground termites are likely to be attracted to it.
See the following photographs for examples of this.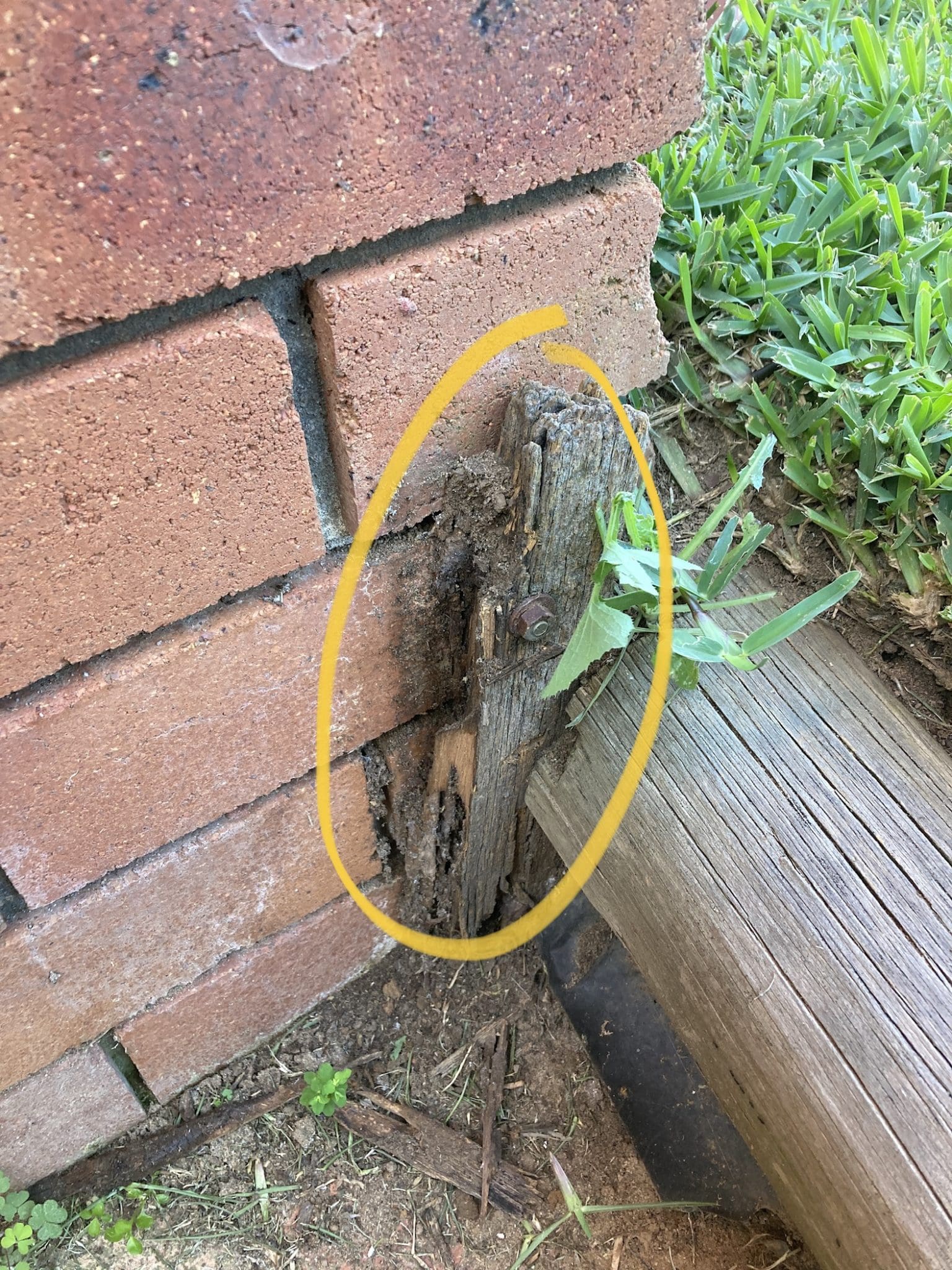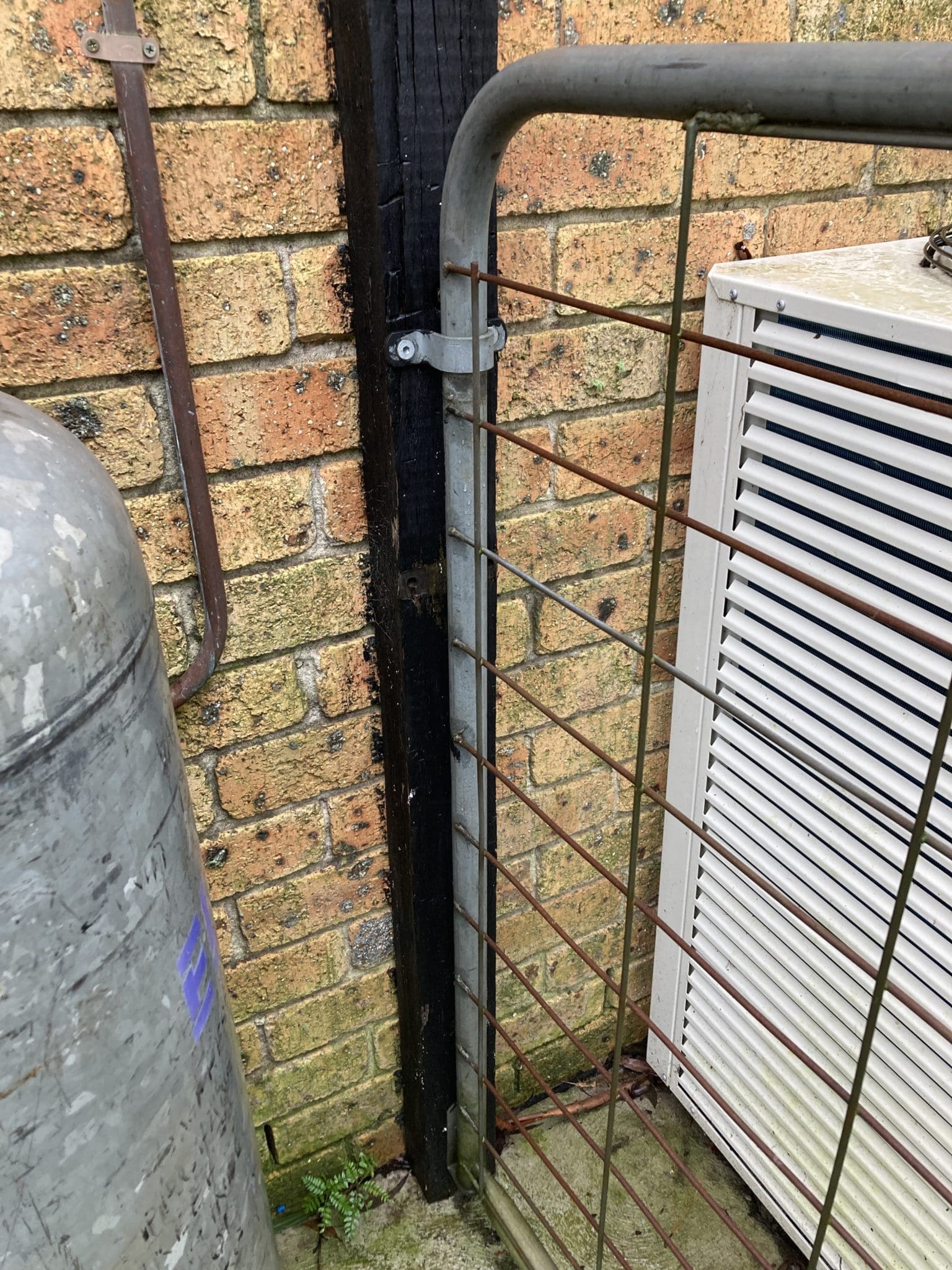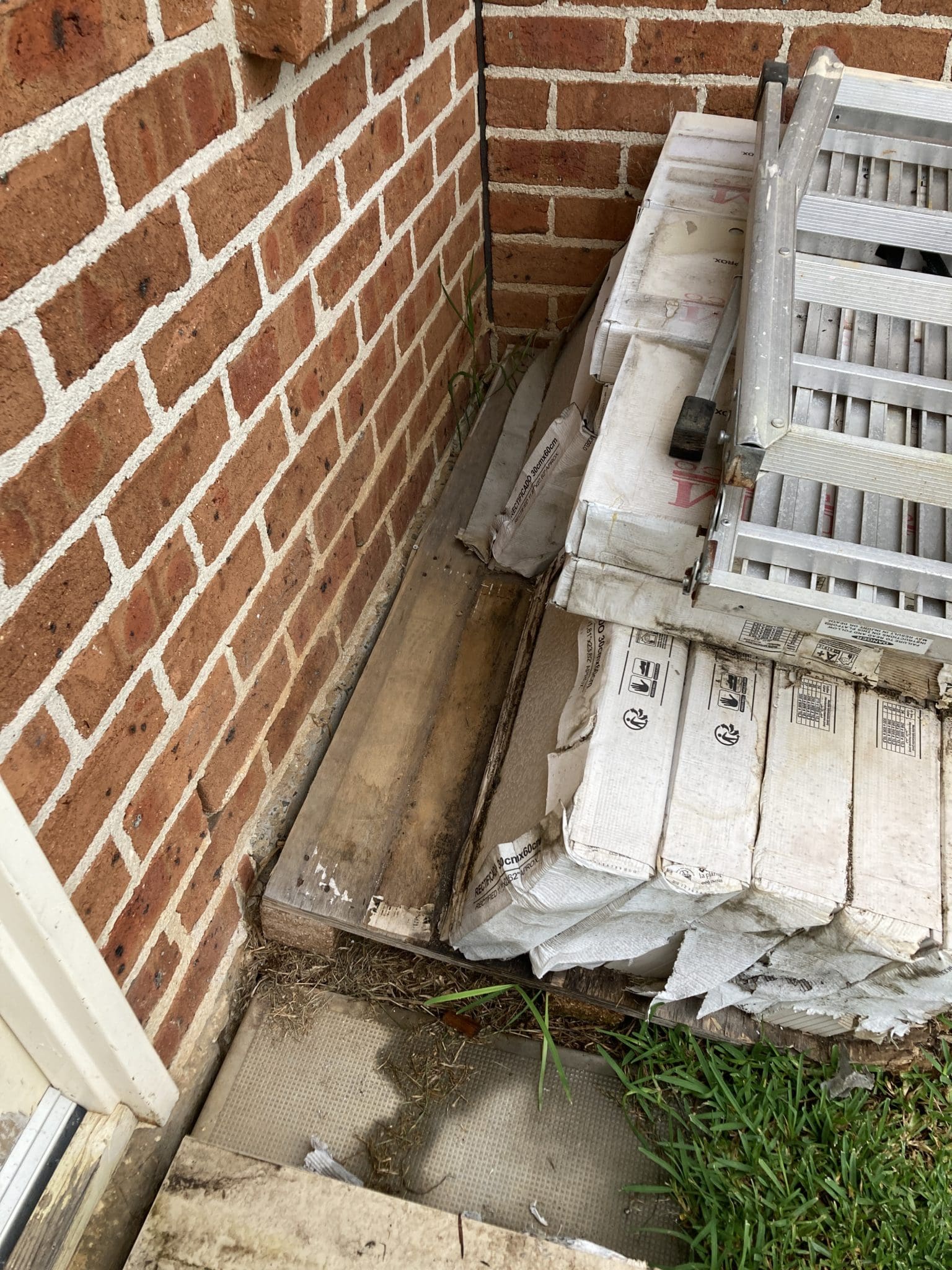 A Timber peg and retaining timber installed against a home (termites were present)
A gate post embedded in concreteagainst the home next to a water source (air con)
Tiles stored on a timber pallet against the home. Both food and cover provided.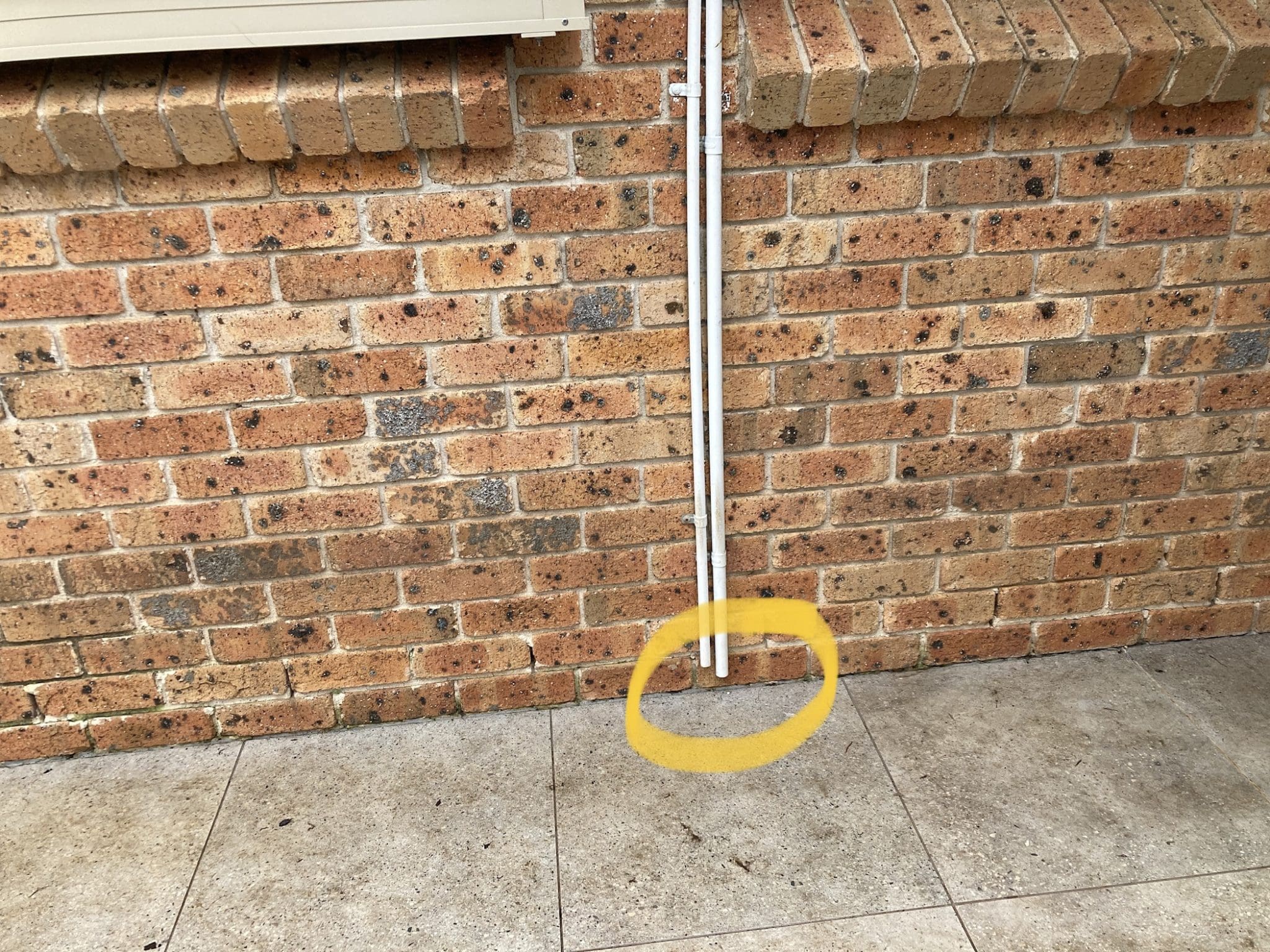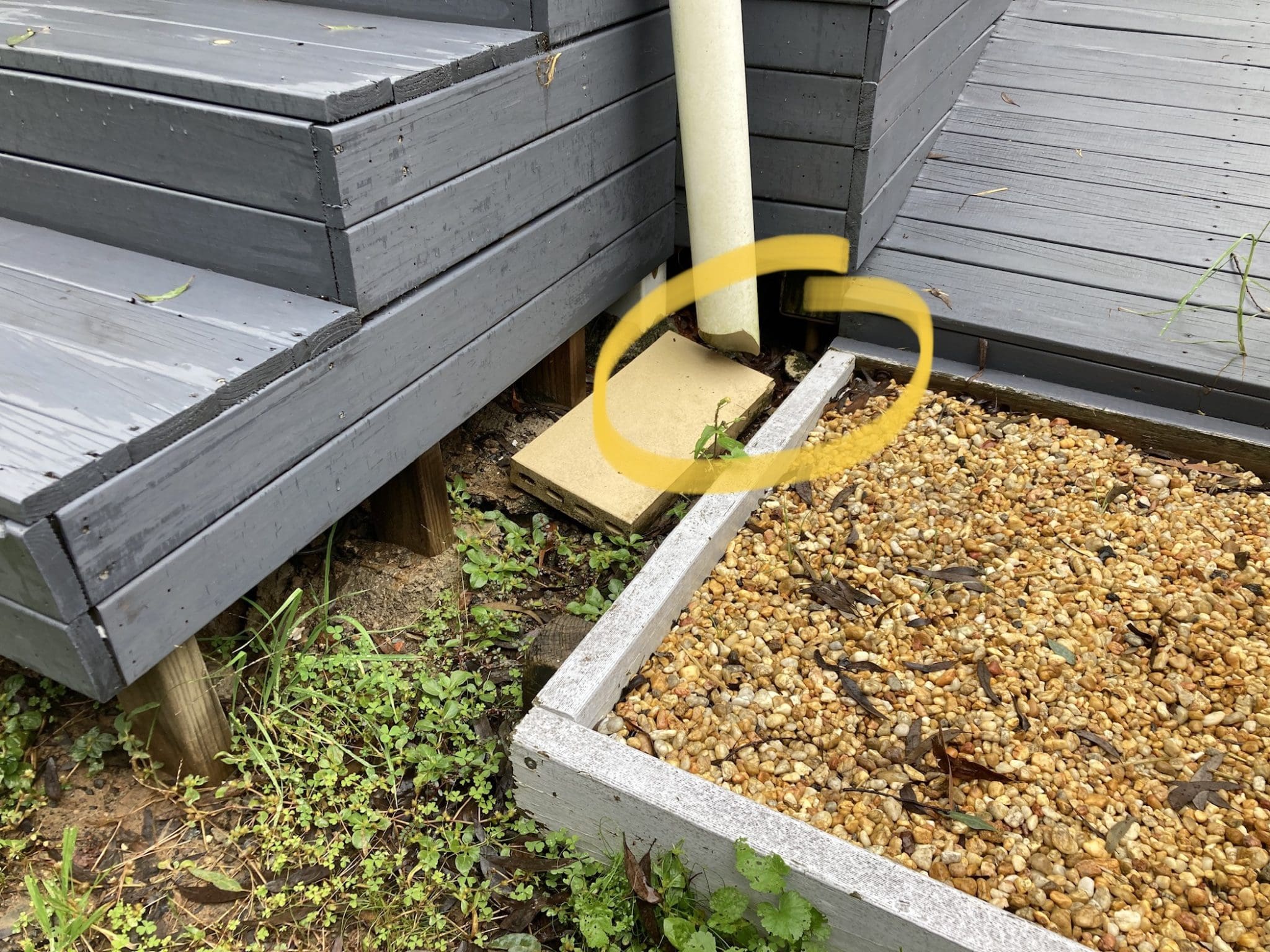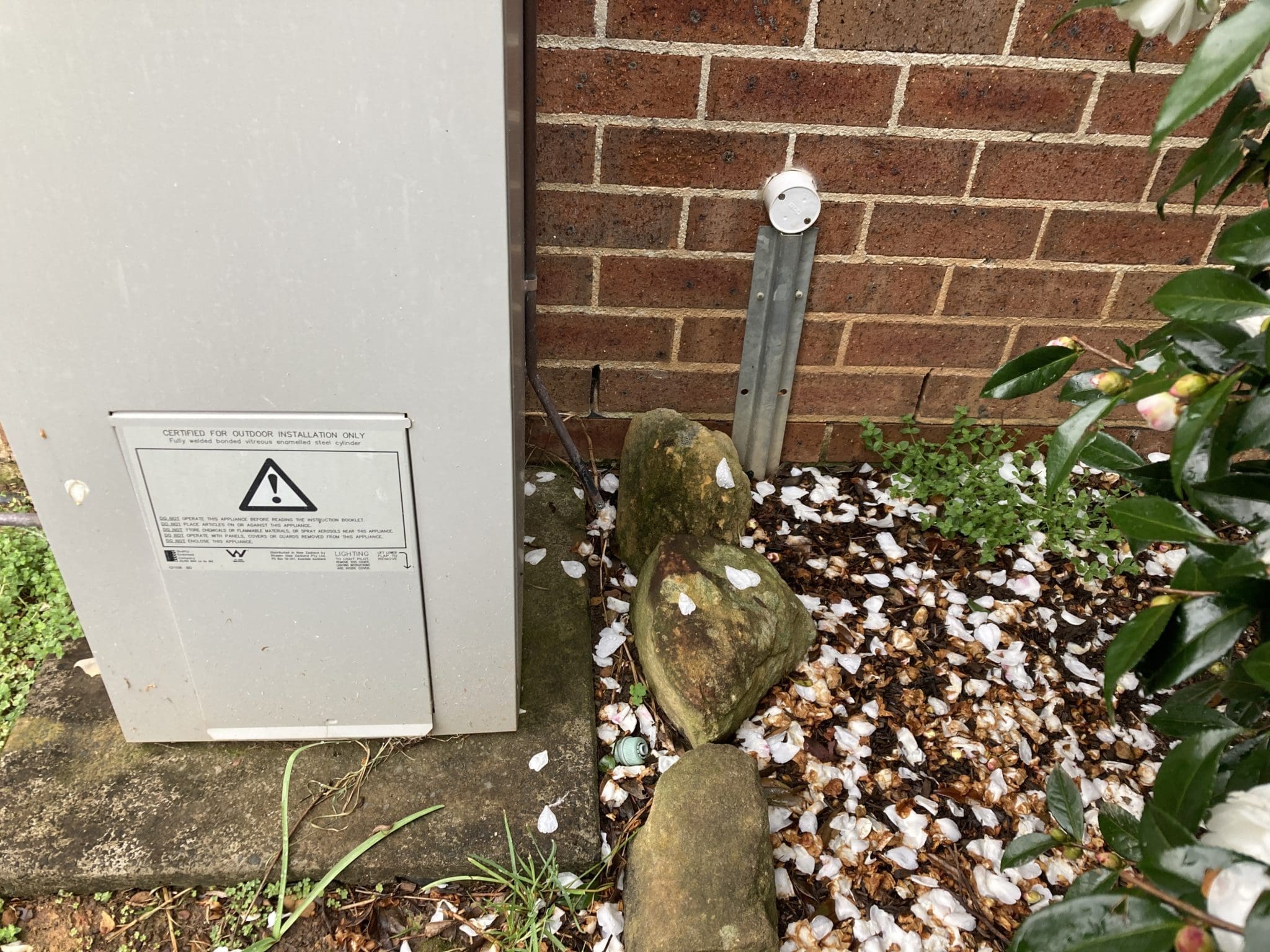 Air conditioning overflow pipes allowed to drain right next to the home.
A downpipe not connected to the stormwater system at all.
A hot water cylinder overflow pipe draining next to the house.
There are so many different conducive conditions that it is impossible to list them all. An experienced Timber pest inspector will be able to identify these and other conducive conditions as well as make comment on the current state of any termite management system that you might have in place. Termite inspections are carried out to Australian standards and to check those standards you can follow this link