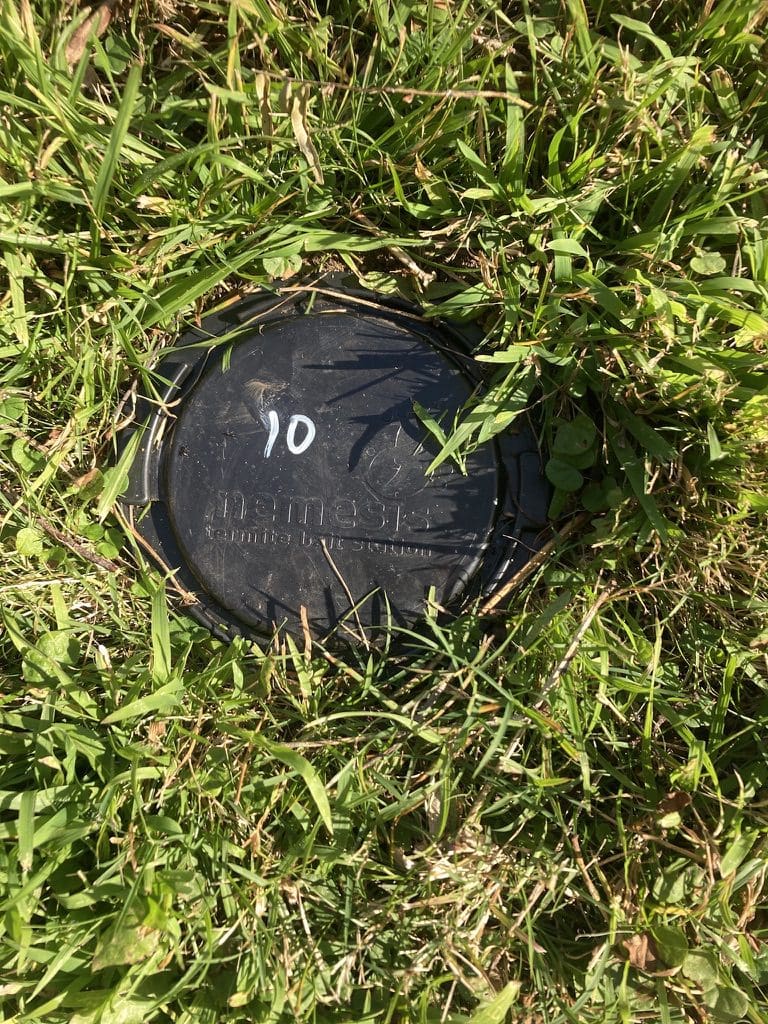 A Nemesis Termite Monitoring Station in place
Termite Baiting in The Oaks near Picton
Termite baiting is a skill that must be learnt over time. Knowing which termites to bait and how each species may differ in their uptake is an integral part of the process.
Stepping back from baiting the first part of any good Termite Management plan is the inspection where amongst other things we will be able to discover where in a building the termites are working, what species of termite they are and be able to devise an approach that will eradicate the colony responsible for the attack.
Once a thorough inspection is carried out we can provide costings on the treatment and will be able to ensure that you are prepared to start treatment.
 Installing above ground stations to bait termites can sometimes take many hours depending on the level of termite attack and how wide spread that attack is. There is almost no disturbance to everyday life as the stations are installed, there is no smell and no toxic fumes.
Why Install A baiting and Monitoring System?
Installing a termite baiting and monitoring system is a safe, environmentally friendly way to combat a pest that has historically been treated with very large amounts of highly toxic chemicals which when integrated with the soil also kill all of the soil microbes that are necesary for good plant and soil health.
The efficacy of a Termite baiting or Monitoring System very much depends upon the skills and experience of the person that installs, monitors and keeps the system up to date. There is not a lot of maintenance that needs to be carried out on the system but regular checking (Bi monthly) and replacement of damaged components and ensuring the timbers in the station are replaced when necesary are all vital to the system working in the manner expected.
Pestgo has over 20 years of experience in all manner of termite control and can come to you to assess if you need a management system and if so which one is the best one for you, call us on 1800 111 616 to book an appointment today.